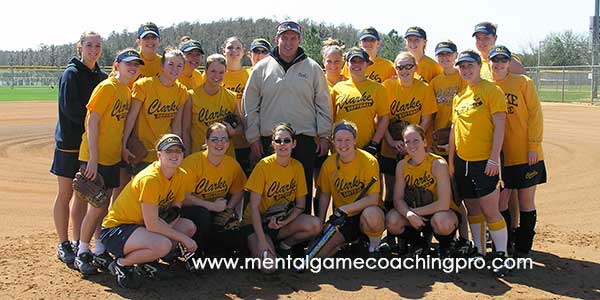 Mental Toughness Tests for Teams
What accommodations do you have to make to do team mental game assessments?
This is a common question I receive during the MGCP sessions.
When working with teams, you have to approach mental game assessments differently compared to working with a single athlete.
We use the AMAP Assessment System for working with individual athletes. In this case, you have the luxury of devoting more time to each athlete.
We usually spend about one-half hour evaluating each athlete's mental approach using the AMAP.
However, when working with groups or larger teams, you have to be more creative with your approach. Why?
Just the size of the group alone requires a different approach…
If you're working with a team of 20 athletes, it's not efficient to do an AMAP with each individual. That would include 10 hours of preparation.
Thus, I prefer to use two different approaches for team or group assessments:
1. An online assessment tool, such as survey monkey.
2. A simple one-page assessment, similar to the AMAT.
Both options are more efficient and give you an overall perspective of the team members' mental game challenges and strengths.
I prefer to use survey monkey because you can simply send the coach a web link to send to team members.
In addition, survey monkey compiles the data and gives a graphical representation of the results, which highlights the biggest challenges for the team. Bonus: This can be given to the coach.
And you can simply make a copy of your survey and modify for a new team. So it saves time.
With that said, you will find many types of online survey tools besides survey monkey, such as Google survey tool.
In the AMAP system for mental coaches, we license out to you the AMAP assessment and provide examples of team surveys you can use.
In addition, you receive the AMAT pre- and post-coaching tool to assess your athlete's progress during coaching.
You get the exact same tools certified MGCPs use. Read more about the AMAP system here:
AMAP Assessment Program for Mental Coaches
The AMAP Assessment system includes these tests:
The AMAP assessment (several sport-specific versions).
Sport parent assessment.
The pre-coaching and post-coaching test (AMAT).
Examples of online team surveys.
The TCAP or team cohesion profile.
These tools are designed to help you become more efficient and organized with your mental game coaching.
Read more here about do mental game assessments: