What Happens When I'm Accepted Into The MGCP Program?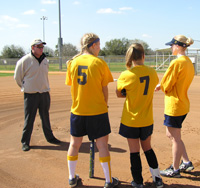 Upon acceptance into the Mental Game Coaching Professional (MGCP) program, you'll be given assess to the MGCP documents and to the peaksportsnetwork.com membership web site, start dates and times of each video conference, and how to access the video conference. The MGCP video conference certification program is taught by video conference over a period of 10 weeks, meeting for two hours each week, but the course can take up to 12 weeks to complete (due to holidays and such).
You will need a computer, webcam, and internet access for the web-video meetings. You also want Word and Adobe Reader for easy document access. All material will be downloaded from a special area on the MGCP web site for MGCP students and graduates of the program.
In addition, you should plan on spending six or more hours per week with the reading, doing assessments, audio case studies, video case studies, and real-life work with athletes and teams. Nearly 60 hours of homework assignments will be spread out over the course of the 10 weeks of the MGCP training program. You'll do mental game assessments with athletes; case study analysis and review; and real-life coaching with actual athletes.
During the 10-week Mental Game Coaching Certification Program, you will…
Assist actual athletes or teams and get hands on experience dealing with real mental game challenges.
Refine your mental game coaching techniques through 18 real-life case study scenarios.
Receive a 20 chapter written workbook and over 160 mental coaching summary sheets and worksheets for your use with teams and athletes so you can be an effective mental game coach.
Complete weekly homework assignments to receive personalized feedback from Dr. Cohn to improve your mental game coaching effectiveness.
Read mental training books and other publications on mental game coaching.
Use the tools in the peaksportsnetwork.com membership program including e-books, articles, audio programs and interviews, and an online mental game assessment.
By the end of the certification program (provided you have completed all requirements for graduation), you will receive a certification from Peak Performance Sports, LLC as a certified Mental Game Coaching Professional; be able to use the MGCP title and insignia; use peaksportsnetwork.com membership site as long as you are in the MGCP program; and earn a listing on menatlgamecoachingpro.com as a certified MGCP.
Want More Information about the MGCP program?