The Mental Game Coaching Professional (MGCP) Certification Program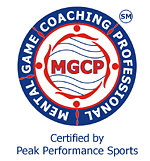 As a coach, you spend many hours each week working in practice refining physical skills to prepare your athletes for competition and lead them to victory. You also know that alone, talent and practice are not enough to win. Now you can learn the mental game coaching techniques and strategies used by master mental game coach, Dr. Patrick Cohn, to give your athletes a mental advantage!
The MGCP certification program is a proven sports mental training performance enhancement system developed by leading master mental game coach, Dr. Patrick Cohn. Drawing from nearly 25 years of experience as a mental game coach, professor in kinesiology, and former athlete, Dr. Cohn has developed the MGCP program to give you the coaching tools to help your athletes overcome mental obstacles and find "the zone."
As a certified Mental Game Coaching Professional (MGCP), you'll learn how to identify mental barriers, teach a proven mental skills system, and improve performance in competition. In addition, you'll learn how to recognize when mental coaching is needed, how to conduct mental game assessments, help athletes build confidence and maximize performance.
The MGCP program is designed for:
Coaches who want to teach their athletes mental toughness, learn strategies to overcome mental barriers, and instill confidence, focus, and teamwork.
Psychologists and other mental health professionals who want to work more effectively with athletes and learn a proven system for enhancing mental game skills.
Athletic trainers who want to utilize mental coaching with their athletes to help athletes triumph over mental obstacles resulting from a sports-related injury or other health-related challenges.
Mental game coaches, life coaches, or sport psychologists-in-training who want to be certified in Dr. Cohn's proven mental training system.
Requirements to Participate in the MGCP Program…
5 years or more of combined experience as a competitive athlete; coach, or trainer in your sport of expertise; or a Ph.D. in psychology; or a Masters degree in counseling psychology.
Understanding of the psychological demands of your sport.
Ability to apply what you learn to real-life sport scenarios.
Have access to a team or individual athletes you can begin mental training with.
A desire to learn about mental game coaching and sports psychology.
Solid communication skills.
The MGCP program is offered in these formats:
Want More Information?