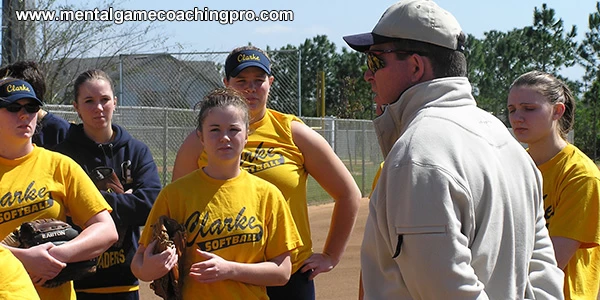 Learn a Proven System for Mental Game Coaching
Do you want a career in mental skills coaching with athletes? In this Careers in Sports Psychology video, Dr. Cohn explains his path to a career in sports mental coaching with athletes.
He explains his background as an athlete, coach, and later mental coach. He studied with Dr. Ken Ravizza and Dr. Bob Rotella during his education while working with golfers.
Watch this careers in sports psychology video where Dr. Coach describes his background, training, education, and how he started Peak Performance Sports, LLC.
---
MGCP – Sports Psychology Certification
Dr. Patrick Cohn certifies sports coaches, life coaches, psychologists and sports-psychologists-in-training with his unique MGCP certification program by Peak Performance Sports, LLC.
Master mental game coach, Dr. Patrick Cohn, has developed the Mental Game Coaching Professional (MGCP) certification program to help coaches and other professionals succeed in teaching athletes how to improve performance with mental game coaching training.
During this unique 10-week video conference course, Dr. Cohn personally teaches you his mental game coaching system (including AMAP mental game evaluation profiles) and strategies which are based on his 25 years of experience working with athletes.
The MGCP program will supply qualified coaches, mental coaches, and sports psychologists-in-training with the skills and knowledge to give athletes the mental edge in competition.
You'll tap into Dr. Cohn's 30+ years of experience as a mental game coach working with junior to professional athletes. A one-of-a-kind mental coach certification course, the Mental Game Coaching Professional (MGCP) program teaches you how to do assessments and teach mental toughness skills to athletes and performers.
The Live MGCP Certification Program Includes:
The MGCP 20-chapter workbook including exercises to teach you how to identify mental game challenges and obstacles that influence performance; develop mental skills individual and team members; and improve teamwork and communication.
MGCP Summaries, outlines and flow charts to help you understand the over mental coaching process and the phases of mental coaching taught by Dr. Cohn.
Examples of mental imagery programs (hockey, dog handling, and golf) including how to create imagery scripts and audio programs for your athletes.
A series of sports psychology e-books on goal setting, confidence, focus, pregame and pre-shot routines.
Use of Dr. Cohn's Athlete's Mental Aptitude Profile (AMAP) and GMAP (golfer's version), to help you identify an athlete's or team's mental game strengths and weaknesses.
Use of the Team Cohesion Aptitude Profile (TCAP) to assess team cohesion; and a sports parent's profile to use with sports parents.
Examples of pre-seminar questionnaires to use before you give a seminar to a group to help you identify mental game challenges and areas to teach..
Over 160 mental game coaching "handouts" or one-page summaries and worksheets you can use to help you stay organized during sessions and as summaries for your student or team.
18 real-life case studies focusing on a different challenge in sports psychology and Dr. Cohn's solution to each. You understand the real-life issues with athletes and how to address their mental game barriers.
A list of books, audios, and other resources you can purchase to enhance your mental game coaching knowledge.
A life-time subscription to peaksports.com membership site. You can email Dr. Cohn with any questions you may have about the MGCP program for as long as you are in the program! ($900 value).
8 audio case studies in sports psychology in which you hear Dr. Cohn work with a golfer, tennis player, and a triathlete.
Three video case studies in sports psychology including a swimming club seminar and a one on one session with a golfer.
50% off the Peak Performance Sports' sports-specific workbook programs.
INCLUDED: AMAP Assessment System, Athlete's Mental Edge, Mental Coach's Playbook and 10-Minute Pregame Prep