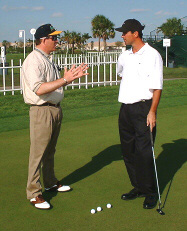 We have three program options to meet your needs. Please read more about each of these programs options below and visit the specific program option pages to get all the details.
(1) One-on-One Certification Program
The one-on-one MGCP certification program allows qualified applicants to receive personalized attention from mental game coaching expert Dr. Patrick Cohn. As a one-on-one student, you'll receive over 20 hours of direct contact with Dr. Cohn through video conference or in person and unlimited email correspondence throughout the course of your personalized training. This program is ideal for those who wish to accelerate the certification training or who would like to work directly with Dr. Cohn throughout the course of MGCP training program. >Read more…
Cost: $7500.00 US > Start the Process Now!
(2) Video Conference Group Certification Program
Designed for those who wish to interact and network with other mental coaches, the video conference group certification program is an ideal way to receive live training directly with Dr. Cohn, but in a group setting. Covering all the same topics as the one-on-one certification program, the video conference group is limited to 3-6 students who meet once a week for approximately 2 hours–over a period of 10 weeks.  The 10-week program is offered each spring, summer, and fall. Minimum of 3 students per semester needed to start course. >Read more…
Cost: $4000.00 US > Start the Process Now!
(3) Self-Paced Training (Non-certification for qualified coaches)
Ideal for coaches who simply want to implement mental game coaching into their coaching, the self-paced training program allow you to work at your own pace. You'll receive all the materials in the group certification program (complete with assessments) strategies and tips as well as unlimited access to pre-recorded class sessions with Dr. Cohn. The self-paced program will provide you with all of the materials covered in the certification version of the program, however, the self-paced program does not include live training from Dr. Cohn. And you will not be able to utilize the MGCP certification status and will not be listed in our MGCP directory. >Read more…
Cost: $1500.00 US > Start the Process Now!
Want More Information?